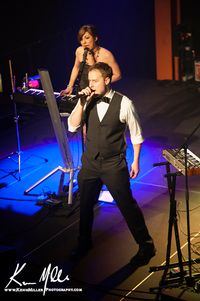 We got word today from
The Barrister's Club
that we've more or less sold out of VIP tickets to our debut show on 2/21/14. Wow! We're excited to perform and all those lucky VIP ticketholders get food, drink and an acoustic performance by Ricky and I.
There are still general admission tickets left. Those tickets get you in the door, but there will be food and drink available if you choose. If you're looking for an excuse to dress up and come out and dance, this is it! We'll be playing a lot of the songs you know and love with some new surprises.  The club recommends that you advance purchase your tickets because they DO have a capacity and tickets are first-come first served at the door (for the same price, $10/each).
We will have our esteemed photographer Kenn Miller (he took the shot to the left) there to take some shots, and we'll be doing a video shoot as well. Come be in our photos and videos that we'll be using on our website!
To Buy Tickets online, click here: http://sunshinesymphony.com/shows and then click BUY TICKETS. You may pay by PayPal or Credit Card.
Alternatively, call here for tickets: 610-433-6204 x 19
Peace, Love & Rock n Roll,
Christine Bainbridge, Sunshine Symphony