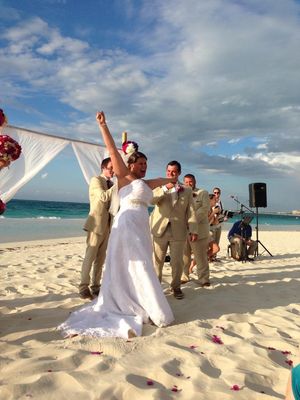 Stacey and Jeff's wedding in Turks and Caicos.


Music by Ricky Bell and Ian Frey of Sunshine Symphony.
Eloping isn't quite the same as it used to be. According to a survey by TheKnot.com, 24% of brides choose a destination wedding - where not only the bride and groom escape to an exotic location, but the wedding guests do, too! A vacation and a wedding in one, destination weddings have an average of 86 guests! 
One unique thing that Sunshine Symphony can offer is entertainment for your destination wedding ceremony, rehearsal dinner and reception.  Just this past week, Ricky, Ian and Christine traveled to Turks and Caicos in the British West Indies (just next door to the Bahamas and the Dominican Republic) for our friends and longtime fans Stacey and Jeff's wedding.  It was a wonderful opportunity to escape someplace warm in spite of a dreary, chilly Spring...but behind the scenes, it required an immense amount of planning and coordination to make it happen. We are happy to say that everything went off with only one hitch - Stacey and Jeff's "hitching!" (Sorry for the corny wedding joke).
Destination wedding planning is challenging, and it seems like a lot of jumping through hoops to get it to happen (and it is), but it can happen. If you have your heart set on having your favorite musicians play your song as you walk down the flower-petal lined beach aisle, it can be done.
One thing we discovered is that Top 40 bands in the islands are few and far between - in fact, there was ONE in Turks and Caicos and the restaurant manager we talked to said they were not so good. You could always hire a DJ, sure - but it's just not the same. I can vouch for that!
At Stacey and Jeff's wedding, the walkway for the bridesmaids and bridal party was LONG. In fact, Stacey wanted Jason Mraz's song "I Won't Give Up" performed for her bridal party AND her processional, and the song would have ended way before she even got on the beach. Ricky and Ian were able to add instrumental parts to make up time so she set foot on the beach at the very moment in the song she wanted. Cue Stacey's tears. There is just something so special about someone singing your favorite song live.
Since making Stacey and Jeff's dream wedding come true this week, we know what it takes to get us and our gear to your destination wedding location. We can handle getting necessary things like work permits, Customs and Immigration, dealing with wedding planners, and renting sound equipment so everyone can hear us perform, too. For what it's worth, Christine also speaks French so she can communicate with the appropriate wedding professionals if need be.
If you're getting married and are thinking about music for your destination wedding, please don't hesitate to contact us. We LOVE making couples happy on their special day!