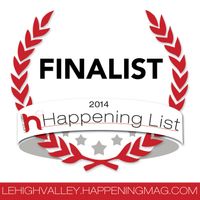 Hey, happy April to our Symphomaniacs out there.  We are so excited that the awards and accolades for Sunshine Symphony keep on coming!  We found out a couple of days ago that we were named Finalists in the
Lehigh Valley Happening List
.  Thanks to everyone that voted, and thanks for spreading the word about Sunshine Symphony!
We really think 2014 is going to be an amazing year - we're riding on those rays of sunshine and spreading the positivity everywhere we go. In the past couple of weeks, we've been booking, booking, booking, and taking some new group shots (hey, did you see our new banner up there at the top of the page? Isn't it awesome?), We'll post them around the website, so click around and see if you can find them.
Last but not least,  if you want a little sunshine in your life, stop by one of our shows and we'll give you a new Sunshine Symphony sticker.
We've been busy! Let's keep the buzz going! Like us on Facebook, add us to your Circles in Google +, share our videos or blog posts or pictures! Thanks, fans!
Peace, Love & Rock n Roll,
Christine Bainbridge, Sunshine Symphony